Turkey's interior minister faces criminal complaint over unauthorized facial recognition app exposing individuals' IDs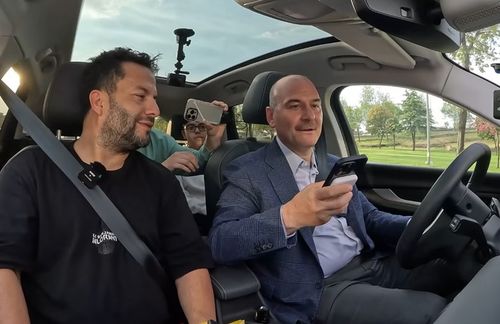 The Progressive Lawyers Association (ÇHD) has filed a criminal complaint against Interior Minister Süleyman Soylu for using an application containing personal data history of individuals.
In a petition submitted to the İstanbul Chief Public Prosecutor's Office, the association requested an investigation into the minister for the offense of "illegally providing or obtaining data" under Article 137/1-a of the Turkish Penal Code and the issuance of an arrest warrant.
The ÇHD petition stated that Soylu used the application to record, process, and share personal data in an arbitrary and unofficial manner without being subject to any legal restrictions.
The application named KİM, "who" for Turkish, came into the spotlight after it was revealed that Soylu accessed the personal information of an individual by taking their photo during a YouTube video.
In the video titled "What's on Minister of Interior Süleyman Soylu's phone? (Togg tour)" published on May 6 on the ShiftDelete.Net channel, Hakkı Alkan, the founder of the channel, examined the applications installed on Soylu's personal phone.
By capturing and uploading Hakkı Alkan's photo to the "KİM" facial recognition program, Soylu was able to identify Alkan's identity, including certain personal data, within seconds.
Soylu had also stated that he had examined the data of a woman by taking her photo in a television studio and learning her name through this application.
"Public authorities must comply with the law"
The ÇHD emphasized that public authorities generally process personal data for reasons such as public order and public safety. However, this does not automatically justify the processing of data without adhering to the limitations imposed by international treaties, constitutional provisions, and legal regulations.
Regardless of whether these data are processed by public authorities or other entities, they must comply with the limitations specified in the relevant regulations.
The application
The petition provided the following description of the KİM application:
"The application is used on Apple phone with IOS software. The individuals who are the owners of the data stored in this application do not have access to it. They are unaware of and cannot foresee the reasons, duration, limitations, and sharing parties involved in the storage and processing of their personal data."
"Punishment shall be increased by half"
The petition detailed the definition of the offense as follows:
In terms of the aggravated form of the offense of illegally providing or obtaining data:
Article 136 of the Turkish Penal Code – (1) A person who illegally provides, disseminates, or obtains personal data from another person shall be sentenced to imprisonment for a term of two to four years.
(2) (Supplementary: 17/10/2019-7188/17 art.) If the subject of the offense includes statements and images recorded in accordance with Article 236, paragraphs five and six of the Code of Criminal Procedure, the punishment to be imposed shall be increased by one-third.
Article 137 of the Turkish Penal Code – (1) If the offenses defined in the above-mentioned articles are committed:
a) By a public official through the abuse of the powers conferred by their duty,
b) By taking advantage of the convenience provided by a certain profession or art,
the punishment to be imposed shall be increased by half."
Reference to the European Convention on Human Rights
The petition made a reference to Article 8 of the European Convention on Human Rights:
"Everyone has the right to respect for their private and family life, their home, and their correspondence. There shall be no interference by a public authority with the exercise of this right except such as is in accordance with the law and is necessary in a democratic society in the interests of national security, public safety or the economic well-being of the country, for
the prevention of disorder or crime, for the protection of health or morals, or for the protection of the rights and freedoms of others." (AS/VK)
Source:Bianet