Kurdish footballer joins German team after lifetime Turkey ban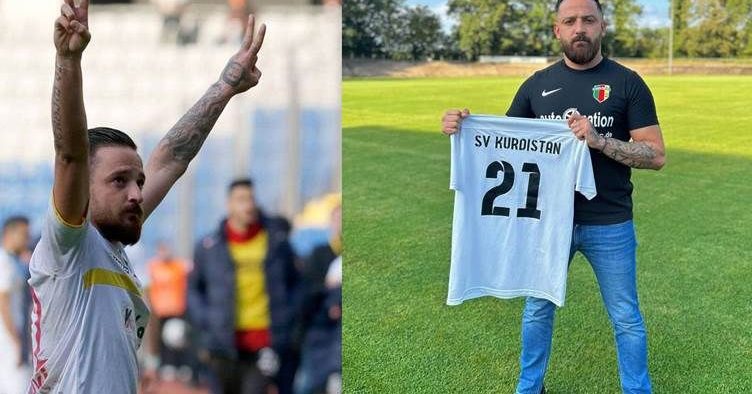 Former Amedspor player Deniz Naki, a Kurdish football player who was banned from playing in Turkey for life, has declared his transfer to the German team SV Kurdistan Düren, Rudaw reported on Friday.
In a triumphant return to the soccer field, the notable player took to Instagram to confirm his new beginning in the sports arena. Naki, a prominent figure in the soccer community, faced numerous adversities including attacks and legal processes throughout his career in Turkey, particularly in relation to his statements on social media.
"While realizing a dream, it doesn't matter where you are, what matters is who you are. I am continuing from where I left off in football. Hello football, hello my Amed 21, hello my SV Kurdistan team," he said in his latest Instagram post.
Deniz Naki, known for his tenure during the 2013/14 season with Genclerbirligi, had previously encountered an attack in Ankara due to his remarks during the Kobane protests, the demonstrations held in Kurdish majority cities across Turkey on 6-8 October 2014 in solidarity with Northern Syria's Kobane city, which was at thi time under siege by ISIS forces.
Consequently, his contract with the team was mutually terminated in 2014. Following his transfer to Amedspor, a football club which has a strong following among the southeastern Diyarbakir's Kurdish population, he once again found himself amidst legal proceedings due to his social media comments concerning other protests in the region. Naki even experienced a physical assault by a fan who invaded the pitch after a match against Mersin Idmanyurdu.
The Professional Football Discipline Board (PFDK) of Turkey had initially slapped Naki with a suspension from matches for 3 years and 6 months, along with a fine of 273,000 liras. However, given that the suspension exceeded 3 years, as per the rules, it converted to a lifetime ban from football in Turkey.
Naki's troubles didn't cease there; he suffered a gun attack while driving in Germany. Following the attack, he vowed never to return to Turkey via a statement on social media. Moreover, due to a criminal incident, Naki was incarcerated in Germany for a year, before being released a few months ago.
Now, with his transfer to SV Kurdistan Düren, Naki is all set to resurrect his football career, symbolizing hope and persistence against adversity.
Source: Gerçek News