Poor prison conditions force new mother serving sentence on conviction of Gulen links to give baby to relatives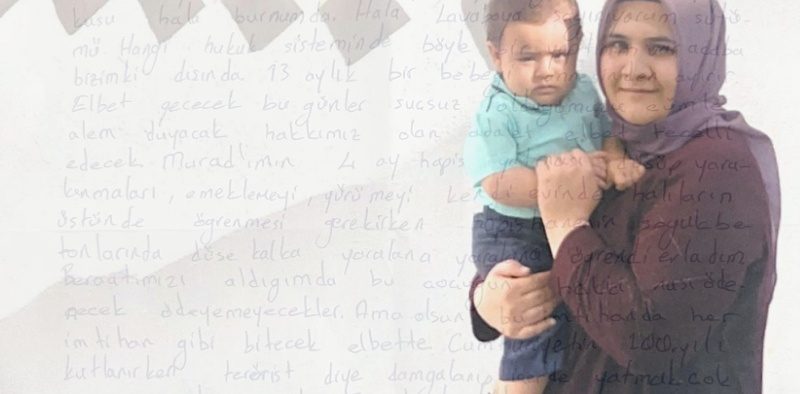 A woman arrested four months ago to serve a prison sentence for conviction of links to the Gülen movement was forced to hand over her 13-month-old baby to relatives because the prison could not accommodate his needs, the Kronos news website reported.
Homemaker Ayşe Karaduman had to hand over her breastfeeding baby to his father and relatives 10 days ago. The little boy had just started taking his first steps and repeatedly fell and hurt himself on the hard prison floors. The mother decided he could no longer stay in prison.
"I desperately miss my little Murat," she said in a letter to her family. "But I could no longer bear his falling and bruising himself on the prison floor. He should have learned how to crawl and walk in his own warm home, on soft carpets."
Karaduman added that she was still lactating, but she disposed of the breastmilk in the prison sink.
The Gülen movement, a faith-based group inspired by Turkish cleric Fethullah Gülen, is accused by the government and President Recep Tayyip Erdoğan of masterminding a failed coup in 2016 and is labeled a "terrorist organization," although the movement denies involvement in the coup attempt or any terrorist activity.
Karaduman's arrest was a violation of the Law on the Execution of Sentences and Security Measures, which stipulates that the "execution of the prison sentence is delayed for women who are pregnant or have given birth within the last year and a half."
Despite the law, several women with infants have reportedly had to turn their babies over to relatives due to poor prison conditions. Some women, like Karaduman, were still lactating and under great psychological stressfrom the separation.
But incarcerated mothers say they feel compelled to hand over their babies to relatives because prisons do not accommodate the physical and developmental needs of young children.
Previous reports have also underlined that Turkish prisons do not accommodate the needs of children and infants. Most prisons do not provide crayons, toys or carpets for crawling babies. Many children do not have their own beds and share their mothers' food.
Source:Stockholm Center for Freedom (SCF)