AKP raids public coffers to pay for March elections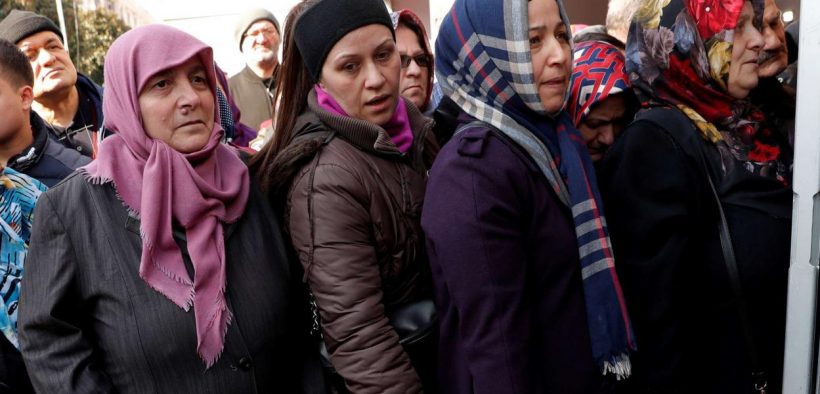 By Zulfikar Dogan
The Turkish Treasury's coffers are being emptied, and the government is covering this up with what it says is the good news that a windfall from one-off emergency advances has raised revenue totals, balanced the books and even resulted in a budget surplus.
Treasury and Finance Minister Berat Albayrak told the nation via his official Twitter account last week there would be a "significant increase in the budgetary surplus and budget revenues in January".
The minister, also President Recep Tayyip Erdoğan's son-in-law, presented a series of infographics during a presentation on the implementation of the budget that showed the budget surplus rose to 5.1 billion lira ($962 million) from 1.7 billion the previous year, a 66 percent rise in budget revenues to 97 billion lira ($18.3 billion), and an increase in expenditures of 62.5 percent.
Tax revenues rose 7.1 percent to 55.7 billion lira, while expenditure soared with a 67.5 percent rise since last year, bringing the total to 84.6 billion lira.
Albayrak presented these figures to the country as good news. Yet the hard truth behind the numbers is evident in the detailed data published on the website of the General Directorate of Budget and Fiscal Control.
The data on the website shows the extent that the Justice and Development Party (AKP) government has appropriated from the budget in order to give itself an advantage going into March 31 local elections.
This is what the government has tried to conceal with the news of the increase in budget revenues – an increase fuelled by the 37 billion lira transferred to the Treasury by the central bank as an emergency advance, months ahead of schedule. The central bank's transfer came after an extraordinary meeting was called by the government on Jan. 18.
Albayrak's announcement failed to mention that the central bank's transfer raised the amount of enterprise and ownership revenues in the budgetary revenues from 1.39 billion lira in January 2018, to 35.1 billion lira last month.
Thus, while tax revenues increased by 7.1 percent, enterprise and ownership revenues went up a staggering 35 times.
Besides the transfer from the central bank, the Treasury has also received emergency advances from seven other major public banks. This was the first time there was such an explosion of one-off payments in January budget figures.
Another segment of budget revenues that experienced a marked increase was interest payments and fines.
Since the end of December, taxi and minibus drivers have voiced frequent complaints about the marked rise in traffic fines doled out to them.
This comes after the Interior Ministry extended the power to issue fines for traffic offences to various branches of the police and the gendarmerie. As a result, the income from fines in January 2019 jumped to 4.44 billion lira ($834 million) from 2.9 billion lira the previous year.
In other words, if it were not for the central bank's one-off emergency advance and the sudden increase in traffic fines, the budget would show a deficit of close to 40 billion lira, rather than Albayrak's lauded 5 billion-lira surplus.
At the same time, the AKP government's external borrowing has picked up in 2019, reaching a value of $8 billion through euro and dollar bonds in January, and Sharia-compliant investments on Feb. 15. The $5.4 billion (around 30 billion lira) raised through external borrowing in four weeks has been placed in the income column of the budgetary data. But before long, it will be time to begin repayments for this borrowing.
Meanwhile, the monthly budget expenditure shot up by 35.3 billion lira this year to 91.8 billion lira ($17.25 million), compared to the 56.5 billion lira in expenses this time last year.
Much of the 84.5 billion lira of that amount that did not go to interest repayments has been handed out through public banks in a series of pre-election incentives, including credit and large-scale social benefits programmes.
Public foundations and banks, including Ziraat Bank and Halkbank, have borne the brunt of the government's election economy, bringing the duty losses at these institutions to 601 million lira a month, almost double last year's total.
Runaway food price inflation has been a major issue in the run-up to the local elections, and the stalls set up by AKP municipalities to sell citizens cheap fruit and vegetables at a loss is bound to vastly increase those losses, as are the various state-run offices and cooperatives offering incentives like free coal to citizens.
The effects of the AKP's election economy have already been witnessed in social benefits expenditures, which at 17.32 billion lira have more than doubled this year. Monthly benefits paid to households in Turkey have risen to 1.150 billion lira.
It is only likely that we will see a rise in these expenditure figures when the February and March budget realisation data is released.
At the same time, in an economic climate that has led hundreds of companies to seek bankruptcy protection, if not go bust altogether, just 1 billion lira of the 55 billion raised in taxes has been raised in corporation tax, compared to 14 billion lira income tax paid by workers and civil servants.
A large part of the 10.5 billion lira gained through excise duties came from taxes on alcohol and cigarettes. Thanks to the exorbitant price and tax increases imposed on alcohol in January, that figure was 1 billion lira lower compared to last year.
In short, the AKP government has taken extraordinary measures to secure advances from the central bank and public banks, and to raise money through fines and by issuing bonds. And it is throwing a great amount of this money at the local elections, in an attempt to secure a short-term victory with little thought for the future.