Kurds Demand Deployment of Int'l Observers on Turkey-Syria Border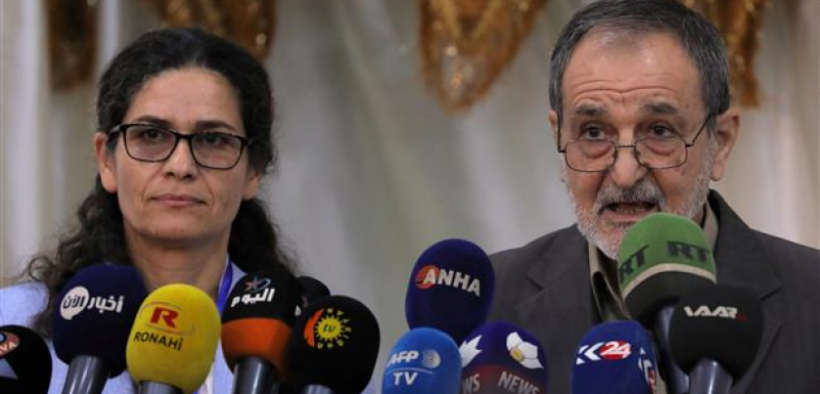 London – Ibrahim Hamidi
The political wing of the Kurdish-led Syrian Democratic Forces, backed by the US-led international coalition against ISIS, renewed its demand for European countries to deploy an international observer force on the Turkish-Syrian border to protect Kurds from Ankara.
Co-chair of the Syrian Democratic Council – the political arm of the SDF– Ilham Ahmed is leading a Kurdish delegation touring Washington, Paris and London to persuade western countries not to betray the Kurds by leaving them exposed to the threat of a Turkish attack.
Ahmed told Asharq Al-Awsat that she will be meeting with high-profile "decision-makers" to discuss developments in northeast Syria, the long-threatened Turkish offensive, as well as the status of foreign ISIS militants captured by the SDF, recent battles in the town of Baghuoz, and the final offensive against the extremist organization's last pocket on the Syrian-Iraqi border."
Ahmed reiterated her call to Western allies on presenting "logistical support and protection" that will allow the trial of ISIS militants detained by the SDF in the eastern Euphrates region. She also made general demands to compensate for the US withdrawal, including a continued no-fly zone, the deployment of European observers on the Turkish border and military support to fight terror sleeper cells in east Syria.
"The SDF have not received any response from Western countries yet," Ahmed said.
"If they do not agree to receive them (foreign ISIS members captured by the SDF), we will keep them and will need logistic and judicial support to maintain the stability of the region," she added.
Ahmed also demanded that about 1,000 to 1,500 international troops remain in Syria to fight ISIS and expressed hope that the United States, in particular, would halt plans for a total pullout.
US President Donald Trump had made a shock announcement last December on planning to withdraw some 2,000 American troops in Syria.
It is believed that Ahmed is looking to secure political support for establishing autonomy in Kurdish-controlled areas, which make up one-third of Syrian territory (185,000 square kilometers). But Ahmed faces rejection by several countries for reasons, one of which is international law recognizing the Syrian government as legitimate. Europe is also unlikely to support Kurdish autonomy near the Syrian-Turkish border given that Ankara, a NATO member, perceives Kurdish entities in Syria as 'terrorists.'
The SDF claim having cornered remaining ISIS militants in Baghouz near the Iraqi border. Foreign fighters and families have featured prominently among those who have fled the town, which had been a collection point for extremists who had escaped from other areas across Syria and Iraq.
Ahmed said a final SDF assault on the last ISIS redoubt would finish within days. Plans requiring "time and patience" were being drawn up to eradicate sleeper cells, she said.
Source: Al Awsat