Zarrab case a "milestone" in Erdoğan's path to autocracy, says U.S. prosecutor Bharara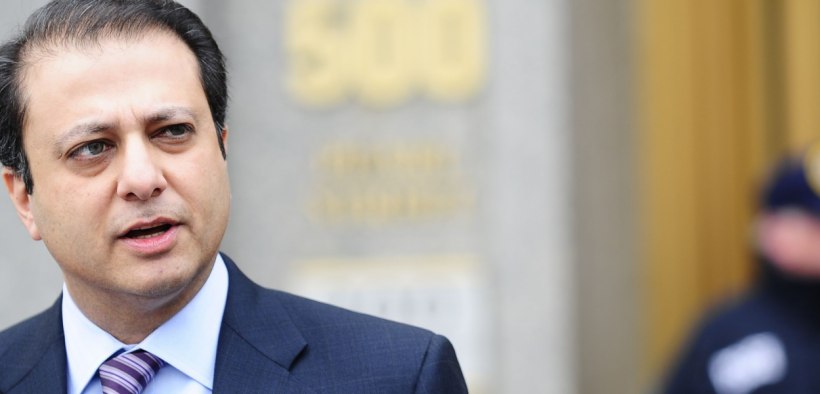 Preet Bharara, the former Southern District New York prosecutor who oversaw part of the case against Turkish citizens charged with breaking sanctions on Iran, has said in a new book about his experiences that Turkish President Recep Tayyip Erdoğan's interference in the case was a "milestone along his unfortunate path to autocracy."
"Erdogan's paranoia and self-protection were amplified by the coup attempt, no doubt," Bharara said in his book, referring to the attempt by factions in the Turkish military to overthrow the government on July 15, 2016.
"But make no mistake that a milestone along his unfortunate path to autocracy was his decision to interfere personally in a duly launched criminal case," he said.
Bharara's name became famous in Turkey in 2016 when the case of Reza Zarrab, a Turkish-Iranian gold dealer arrested in the United States and charged with contravening U.S. sanctions on Iran, fell under his jurisdiction.
Zarrab had been arrested in 2013 on similar charges in Turkey, but was released without having to stand trial by Turkey's ruling Justice and Development Party (AKP), which characterised the charges against him as part of an attempt to unseat the government.
Senior AKP officials including cabinet ministers and then prime minister Erdoğan were implicated in the Iran sanction breaking scheme and other corruption charges.
When Zarrab was arrested in the United States in 2016, Erdoğan took a personal interest in the case, and Bharara recounts a long list of attempts by the Turkish leader to persuade the U.S. leadership to drop it.
"As reported in the press, in the final weeks of the Obama administration Erdogan personally met with Vice President Biden. The president of a foreign nation thought he could come to Washington, attack a sitting U.S. Attorney, insert himself into an American criminal proceeding, and have his way," Bharara said.
"He had two principal agenda items. He demanded that I be fired and that Zarrab be released. He reportedly spent half of his ninety-minute conversation with Vice President Biden discussing Zarrab's prosecution. Erdogan's wife even brought up the case with Jill Biden. The Turkish justice minister at the time visited the then attorney general, Loretta Lynch, and demanded Zarrab's release. Erdogan discussed the case in phone calls with President Obama too. Imagine that."
Zarrab eventually flipped to give information to prosecutors, and became the star witness in the case against Mehmet Hakan Atilla, an executive at the Turkish state-run Halkbank, who was sentenced to 32 months in prison last May for his part in creating a mechanism to move billions of dollars past sanctions for Iran.
The case is still a sore point for the Turkish president, particularly since Halkbank is yet to receive a potentially crippling fine for its part in the scheme.