U.S. denounces Kosovo's extraditions to Turkey as "egregious breach" of democracy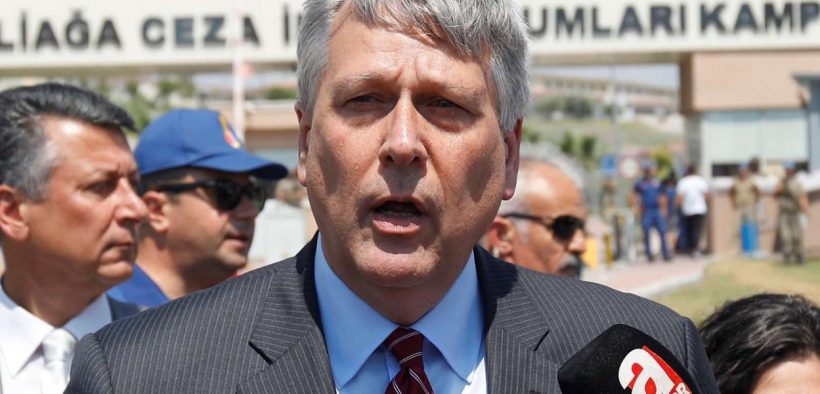 Kosovo's extradition last year of six Turkish citizens in violation of dozens of regulations marked an "egregious breach of democratic values" that highlights the Kosovan security agency's susceptibility to political manipulation, the U.S. Embassy in Pristina said on Monday.
In March 2018, Kosovo deported the men to Turkey without due process and without the knowledge of the country's prime minister, at the request of Turkish President Recep Tayyip Erdoğan. The Turkish citizens, including five linked to the Gülen movement, a religious group Turkey blames for the 2016 coup attempt, are now behind bars in Turkey's Silivri Prison.
The U.S. Embassy in Kosovo's capital, headed by Ambassador Philip Kosnett, former charge d'affairs at the U.S. Embassy in Turkey, expressed pleasure about the creation of a parliamentary committee to investigate the decision to extradite, yet urged Kosovo to follow the rule of law.
"The committee's findings, which suggest 31 legal or procedural breaches by the Kosovo Intelligence Agency, Interior Ministry, and other institutions, raise concerns about overreach by key security agencies, as well as the security sector's susceptibility to political manipulation," said the statement. "We call on Kosovo institutions to ensure full accountability for anyone violating the law, and remind Kosovo leaders that security institutions must act only within their constitutional authority, subject to the rule of law."
The extraditions sparked an outcry in the Western Balkan country after Kosovo's prime minister, Ramush Haradinaj, tweeted that he had not been informed about the operation.
Xhelal Svecla, head of the parliamentary committee, said the order came from within the highest institutions. The U.S. statement called on top Kosovan officials to adhere to laws and democratic values.
"The issue is not the alleged guilt or innocence of the individuals, but rather the apparent circumventing of Kosovo's legal processes by Kosovo politicians," said the U.S. Embassy statement. "Political pressure on the security sector to break Kosovo law is an egregious breach of democratic values. We urge full transparency in the security sector, and in the conduct of foreign affairs, to prevent inappropriate interference by Kosovo politicians in the future."
Source: Ahval News