Turkish opposition faces legal onslaught in lead-up to vote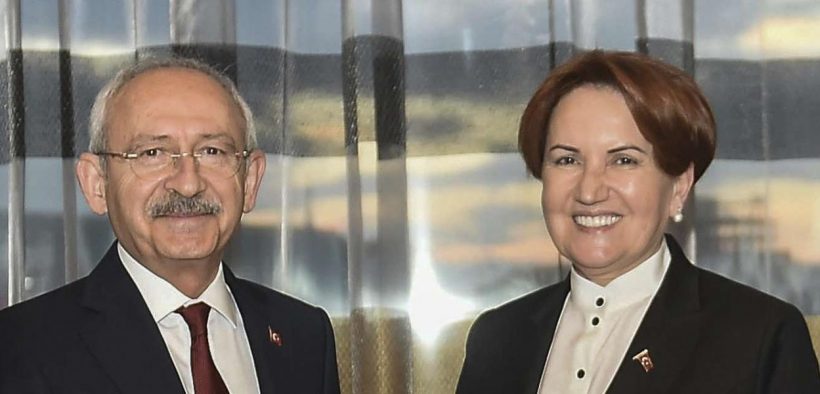 By Zulfikar Dogan
As the clock ticks down to Turkey's March 31 local elections, the campaigns are becoming increasingly acrimonious with prosecutors preparing a legal onslaught against opposition leaders and politicians.
Prosecutors are preparing cases against at least two opposition party leaders, and at least two prominent opposition officials.
Republican People's Party (CHP) leader Kemal Kılıçdaroğlu is accused of insulting Interior Minister Süleyman Soylu during a televised speech 10 months ago and prosecutors have begun proceedings to remove his parliamentary immunity so he can be charged and tried.
Opposition nationalist Good Party leader Meral Akşener is also under investigation and could face jail on charges of insulting President Recep Tayyip Erdoğan. The Good Party came fourth in general elections last year, behind Erdoğan's Justice and Development Party (AKP), the CHP and the Peoples' Democratic Party (HDP), a pro-Kurdish party.
Meanwhile, CHP member of parliament Aysu Bankoğlu is being investigated on possible charges of spreading terrorist propaganda and praising crime and criminals, namely the Kurdistan Workers' Party (PKK), an armed group listed as a terrorist organisation by Turkey, the United States and the European Union.
Bankoğlu said her words had been taken out of context. She said the ruling party's election campaign strategy was to accuse the opposition of forming a disgraceful alliance with the PKK and other organisations banned as terrorists.
Another leading opposition candidate is the CHP's Mansur Yavaş, considered by many to be the frontrunner in the race to become mayor of the capital, Ankara. An indictment has been filed against Yavaş, accusing him of abusing his office while working as a lawyer a decade ago by filing duplicate court claims to recover a $600,000 fee due to his client.
A court accepted the indictment against Yavaş on March 8, giving him 10 days to make a court statement. News of the indictment was made public by Yavaş's rival in the Ankara race, Mehmet Özhaseki, and AKP spokesman Ömer Çelik, before the prosecutor's office had made the announcement.
Yavaş has revealed documents showing that his accuser has a history of mental illness and has been sentenced to six years in prison on charges of forgery, child molesting, blackmail and threats.
The prosecution of opposition candidates is by no means a new development. The HDP has seen its former co-chairs Selahattin Demirtaş and Figen Yüksekdağ jailed, as well as other members of parliament, mayors and councillors. The recent cases are likely a sign that the ruling party plans to extend judicial repression to the other opposition parties.
Polls have shown that Yavaş is leading in the Ankara race, with some showing a substantial lead over of Özhaseki, and it appears this has sent the Islamists into a panic over the possibility they will lose control of the capital's municipality for the first time since 1994.
In that context, such below-the-belt attacks are to be expected. Yavaş, however, has declared his intention to avoid the mudslinging and speak on the campaign trail only about the projects he proposes to carry out if elected.
Unlike Yavaş, AKP candidates are unable to run their own campaigns. That is left to Erdoğan, who is both the president of the country and AKP chairman. The candidates themselves are thus rendered unimportant. Just as they are about to introduce themselves and their agenda, Erdoğan swoops in to steal the spotlight, threatening to send Akşener to prison or accusing Women's Day marchers of disrespecting the call to prayer.
No one could care less what the candidates for the AKP or their far-right Nationalist Movement Party (MHP) allies have to say; the pro-government press is too busy focusing on the president's latest belligerent statements.
The AKP's biggest name in the race, Istanbul mayoral candidate Binali Yıldırım, has become so uncomfortable with the situation as to openly defy his president. Yıldırım contradicted Erdoğan's assertion that the local elections were a matter of existential importance, saying instead that local issues should be discussed during local elections.
"Since the beginning, the disputes between the alliances have gone from local issues to become very general. I feel this is a mistake. We aren't electing a president, we're electing people to run our cites," Yıldırım said in an interview with pro-government daily Yeni Şafak.
Asked about the three most important issues, Yıldırım listed the economy, unemployment and problems with the system of determining the retirement age.
This can be read as an admission that, while Yıldırım's party is attempting to shift discussion to questions of the country's survival, voters are much more interested in the hard times ahead of them after the country has entered a recession.
One wonders whether AKP candidates would stand a better chance if they were allowed to address these issues in their own constituencies, rather than being forced to conform to the aggressive campaign run by their leaders.
The AKP mayoral candidate for Ankara, Özhaseki, is a sorry sight, unable to shift from the party line. Because of this, all his statements simply parrot those of Erdoğan and AKP head office.
His electoral pledges, for example, to bring clean water to Ankara, are also self-defeating, given that the capital has been run by AKP politicians for 25 years. On the other hand, opposition candidates have been allowed to state their cases to voters clearly and openly, without their party leaders overshadowing them, and it seems in many cases to be working. Perhaps that is why the ruling party fears them enough to resort to legal action.
Source: Ahval News