WHY IS TURKEY'S PRESENCE IN AFRIN, SYRIA ANY DIFFERENT THAN THE WEST BANK?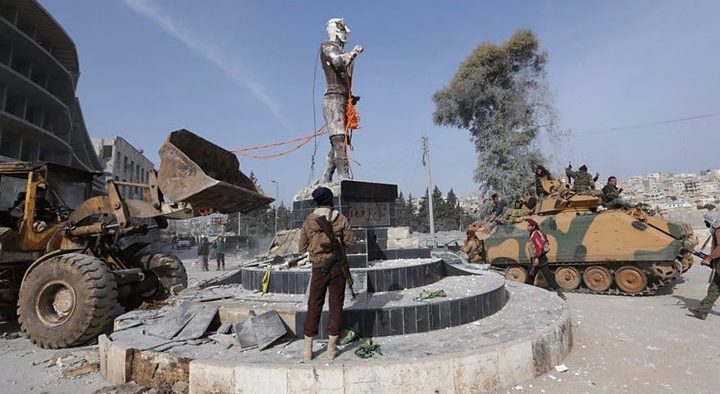 Military occupation. Stolen olives. Checkpoints. Accusations of theft of property, land confiscation, demographic change and settlers.
These are claims usually leveled at Israel's role in the West Bank, but in the last year, Turkey and the Syrian groups it backs have been accused of similar violations in northwestern Syria.
A year after Turkey's military operation ended in Afrin, the UN and the US State Department have both released investigations that point to widespread human-rights abuses. The UN report on January 31, presented at the Human Rights Council 40th Session, highlights "arbitrary arrests and detentions" pervasive throughout the Afrin district.
"Credible estimates indicated over 50 armed groups" were present in Afrin and adjacent areas. These include a wide range of rebel groups and some extremist jihadist groups.
The report notes that Turkey's Operation Olive Branch in Afrin ended on March 18, 2018. Turkey said it launched the offensive last year against ISIS and the Kurdish People's Protection Units (YPG). There was no evidence of an ISIS presence in Afrin, but the YPG had controlled Afrin for most of the Syrian civil war. Turkey claims the YPG is the Syrian version of the Kurdistan Workers Party and is therefore linked to terrorism. Turkish forces operated alongside tens of thousands of Syrian armed rebel groups. Hundreds of thousands of Kurds fled Afrin during the fighting, a significant portion of the population.
The UN said that 
after the operation was over infighting continued
 to harm civilians. "Owing to lack of an effective security apparatus and attendant absence of the rule of law," the report says, "the most common violations in Afrin involved frequent abductions by armed groups and criminal gangs." The report also described pillaging and theft of olive harvest, which "deprived many of their livelihoods."
There is not a "continuous presence of Turkish military troops," the report explains, but Turkish forces had been arming checkpoints in and around larger cities and Turkish authorities played a role in local administration. Identification documents were required to be issued by Turkish authorities "as a prerequisite for civilians to move freely within Afrin."
The commission of inquiry established by the UN to examine Syria found "reasonable grounds to believe that armed groups members in Afrin committed the war crimes of hostage-taking, cruel treatment, torture and pillage."
These are serious accusations but the UN says it cannot determine to what extent Afrin is under the control of Turkey. Yet Turkey has signed an agreement with Russia that appears to cover nearby Idlib, indicating that Turkey has taken responsibility for these areas.
The US State Department quotes widely from the UN findings but also goes further by noting that Afrin residents have reported appropriation of civilian homes, "hospitals, churches and a Yazidi shrine by members of armed opposition groups and citizens."
Members of the Yazidi minority, who were subjected by genocide by ISIS in Iraq and Syria in 2014, were again attacked by the jihadist groups that supported Turkey's operation. "Destruction of Yazidi religious sites appears to have sectarian undertones," the US noted.
In fact, a religious fatwa had been issued by some extremist groups against the Kurds in Afrin. Kurdish homes were appropriated. "Turkish-backed armed opposition groups reportedly barred returnees from their properties."
THE REPORTS point to a disastrous year in Afrin under military rule by Turkey and its allies. It is one that has gained only a few references abroad.
In a recent spat between the Turkish president Recep Tayyip Erdogan and Israel, Prime Minister Benjamin Netanyahu accused the Turkish leader of committing a "genocide against Kurds."
Erdogan had accused Netanyahu of being a tyrant who "massacred seven-year-old Palestinian children."
The conflict in Afrin overshadows the complexities facing eastern Syria. The Syrian Democratic Forces (SDF) include the YPG as part of their umbrella of fighters who have helped defeat ISIS. Turkey has threatened a military operation against the SDF throughout the last year, threatening to continue the kind of operation it did in Afrin. This would include using Syrian rebel groups to fight in Manbij, Tel Abyad and other areas, with promises from Ankara to turn them over to their "true owners." This is a reference to returning mostly Arab refugees to these areas.
Kurds have accused Turkey of bringing Arab IPDs from other areas of Syria to settlement in Afrin, including a March 12 report that claimed Palestinians were being resettled in Afrin.
Turkey has pressured the US to leave eastern Syria but Washington has said they will not allow a Turkish operation against the SDF, who are the main US partners in fighting ISIS. US Secretary of State Mike Pompeo said that the US would stop Turkey from "slaughtering" Kurds, which angered Ankara in early January.
Turkey told the US it wants a "safe zone" in Kurdish areas of eastern Syria, where Syrian refugees might return. For the SDF, this is commemorative of the way Turkey handled Afrin and the SDF has indicated this is not acceptable. After Afrin, where they watched hundreds of thousands flee and saw extremists take over the countryside, the SDF will do anything to prevent a repeat scenario in eastern Syria.
The Afrin example leads to questions about why it is not treated with the same concern as the West Bank. The accusation against the military occupiers of Afrin are similar and include confiscation and appropriation of land and homes, theft of olives, demographic change, refugees, and lack of civil rights for locals. Even the UN admits that it doesn't have enough information about what is taking place, which appears to indicate the need for a special rapporteur, temporary international presence or a Goldstone-style report as the UN has done regarding Israel.
Human rights groups, such as Human Rights Watch, called in June for compensating owners of property displaced by armed groups and noted that international law says that "all refugees and displaced persons have the right to have restored to them any housing, land and/or property."
Almost one year later, more than 100,000 Kurds who fled Afrin are still waiting.
Source: The Jerusalem Post