Ankara's realignment with Russia will cost Turkey more than it thinks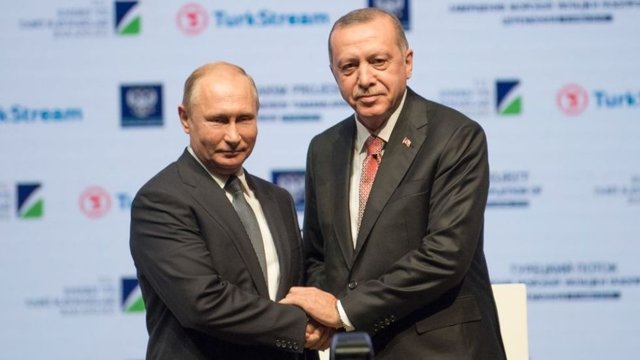 Washington's deadline for Turkey to abandon its plans to purchase the S-400 surface-to-air missile defense system from Russia is fast approaching, with little progress. Fiercely defending his purchase of the missile, Turkish President Recep Tayyip Erdogan is accelerating Turkey's strategic shift away from NATO. The costs of this shift are much larger than Turkey's leaders are willing to admit — and not only on the country's defense sector, but also its energy sector.
For two years, Washington has been scrambling to convince Erdogan to cancel the S-400 deal. Not only is the S-400 incompatible with Turkey's NATO defense infrastructure, its purchase could trigger U.S. sanctions under the Countering America's Adversaries Through Sanctions Act (CAATSA). Neither carrots nor sticks has compelled Erdogan to change course, however. The Turkish leader still believes that he can keep the S-400 and obtain a waiver on U.S. sanctions.
As the S-400s are due in Turkey in July, the potential costs on Turkey's defense sector are mounting: CAATSA could cost Turkey up to $10 billion. The U.S. could also block the delivery of F-35 advanced fighter jets that Turkey has already paid for, and remove Turkey from the F-35 program — in which Ankara has invested more than $1.25 billion.
But there are major indirect costs that Turkey will have to bear as well. Erdogan's insistence on collaborating with Russia at NATO's expense has deeply antagonized U.S. policymakers, compelling them towards new alliances that exclude Turkey. The most consequential of these — for now — is playing out in the energy politics of the Eastern Mediterranean.
Energy is one of Turkey's greatest vulnerabilities. Turkey, like Europe, is highly dependent on Moscow for its energy. Indeed, Turkey relies on natural gas to produce half of its electricity needs, with 60 percent of its natural gas imports coming from Russia. While Turkey has made some headway in diversifying its supplies by importing gas from Azerbaijan through the Trans-Anatolian pipeline (TANAP), it is not enough to reduce Turkey's dependence on Moscow.
One way Turkey could diversify its supplies — and assume its long-desired role of becoming Europe's central energy hub — is by participating in the natural gas race that is taking place right now in the Eastern Mediterranean. Last year, the Italian energy company Eni and the French Energy giant Total discovered the Calypso natural gas field off the coast of Cyprus, with reserves estimated at 6-8 trillion cubic feet (tcf). While this amount is small compared to, for example, Israel's Leviathan field, with reserves estimated at 22 tcf, or Egypt's Zohr field, with reserves estimated at 30 tcf, Calypso still ranks as one of the largest gas discoveries worldwide. It also strongly indicates more natural gas discoveries to come, as the U.S. Geological Survey estimates the region to hold as much as 122 tcf of natural gas. In fact, this February, Exxon announced its discovery of a natural gas field, Glaucus-1, in Cyprus's waters with 5-8 tcf of estimated reserves.
Together with the natural gas fields found off the coast of Israel and Egypt, these reserves offer a major opportunity for Turkey, which could import natural gas from these suppliers, not only for domestic consumption, but also for further export to Europe.
Yet, rather than taking a cooperative approach towards developing additional supply options, Turkey has engaged in aggressive exploration and military activities in the Eastern Mediterranean. Turkey does not recognize Cyprus's claims for its offshore exclusive economic zone, arguing that parts of it fall under the jurisdiction of Turkey or the Turkish Cypriots. Accordingly, the Turkish navy has been harassing Italian drilling vessels off of Cyprus, and has launched its own drilling vessels to explore for natural gas within Cyprus's territorial waters.
The newly energy-rich countries of the Eastern Mediterranean — Israel, Cyprus, and Egypt — are now moving on without Turkey. In mid-January, Egypt, Israel, Greece, Cyprus, Jordan, Italy and the Palestinian Authority launched the Eastern Mediterranean Gas Forum with the goal of developing a policy towards the development of the region's natural resources. Turkey was notably absent from the guest list.
America has great leverage to overhaul this dynamic to Turkey's benefit. It could, for example, foster increased energy cooperation in the region, not least by seeking additional pipeline capacity to Turkey from Israel and Cyprus as production from new discoveries come online. It could also tie progress on Eastern Mediterranean gas disputes to a political settlement between Cyprus and Turkey.
But with the S-400 saga continuing to poison the waters, Washington is losing its appetite to do Ankara any favors. This month, Sens. Bob Menendez (D-N.J.) and Marco Rubio (R-Fla.) introduced the Eastern Mediterranean Security and Partnership Act, which would seek to lift America's decades-old arms embargo on Cyprus. If nothing else, the bill demonstrates Washington's willingness to further isolate Turkey militarily and economically if Ankara goes through with the S-400 deal.
So far, Exxon has been hesitant to proceed with production on Cypriot gas fields due to concerns over the relationship between Turkey and Cyprus. But should the United States government lend its full support to Cyprus, Exxon and other U.S. companies' calculations could follow suit.
Ankara has increasingly isolated itself from its neighbors and risks permanently damaging its relationship with the U.S. and NATO with its S-400 purchase. Now, the bill on Turkey's over reliance on Russia and aggression towards Cyprus is coming due.
At this point, the U.S. should make clear to Turkey the costs of its strategic shift to Russia: Should Ankara decide to change course, it could gain access to a diverse set of energy suppliers, coupled with a cooperative defense relationship with the U.S. and its NATO allies. Should it continue on its current path, however, Ankara will become overly reliant on Russia in both the energy and defense sectors — turning Turkey increasingly into a client state of Moscow.
By MERVE TAHIROGLU AND GREG EVERETT
Source: The Hill