Erdogan's Purges Leave Turkey's Justice System Reeling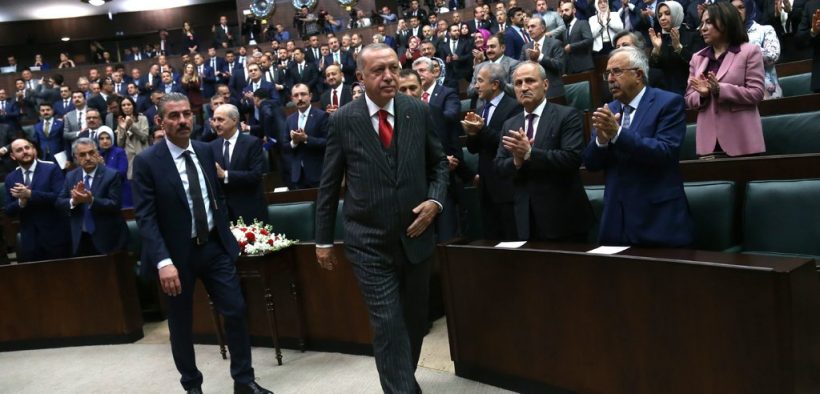 Credit

Credit

European Pressphoto Agency, via Shutterstock
ANKARA, Turkey — Once jailed for reciting a poem at a political rally, President Recep Tayyip Erdogan has styled himself throughout his rise as a champion of freedom and justice, and his early push for judicial reforms were widely hailed.
Yet after nearly two decades of Mr. Erdogan's rule, the state of the judiciary in Turkey is in such crisis that the lives of millions of citizens are tied up in tortuous legal procedures, and public trust in justice has fallen as low as it has ever been in Turkey's long, uneven record.
Across the public sector in Turkey — the economy, education and labor — opponents of Mr. Erdogan say that his authoritarian management style and cronyism within the ruling party are undermining confidence and performance.
The country's courts may be the most urgent example. Purges and a persistent brain drain have rotted out the judiciary, and those judges still in their jobs are paralyzed by a climate of fear, legal professionals say.
Justice will be at the forefront of people's minds on Sunday as Istanbul votes in a do-over of the mayor's election. Mr. Erdogan's party succeeded in having the election annulled after the opposition won by a narrow margin on March 31, and a rerun was ordered by the High Election Council, in a much criticized legal decision.
"As the judiciary entirely lost its independence, it became a force, a weapon of the political government," said Omer Faruk Eminagaoglu, a former judge and appeals court prosecutor.
"This is not a problem in Turkey that just erupted in one day, but it is a problem that reached its peak under this government," he said.
Credit

Ozan Kose/Agence France-Presse — Getty Images
Prisons have never been fuller — levels of incarceration have soared under Mr. Erdogan — while the court system is weighed down by the combined weakness of inexperienced judges and the heavy hand of government control.
Around 4,000 judges have been purged in the aftermath of a failed 2016 coup attempt, and they have been hurriedly replaced, often by Erdogan loyalists, some of them barely out of college.
The average level of experience of the country's entire force of 14,000 judges is just two and a half years practicing law, said Metin Feyzioglu, the head of the Turkish Bar Association.
Many are at best timid about confronting power, and at worst acting as a tool of enforcement for the government, especially as it pursues its opponents.
There is no doubt Mr. Erdogan and his party are aware that crisis is near. Last month, with considerable fanfare, Mr. Erdogan announced a raft of changes that he said would lift public confidence and improve Turkey's investment climate.
Reforms would focus on serving the people, securing an independent judiciary, improving access to justice and shortening the length of trials, he told a gathering of judicial officials at the presidential palace.
"When justice is reduced somewhere, grievances increase," he said.
Yet for many legal professionals the speech rang hollow.
"It is good that they accept something is bad in the justice system," said Veysel Ok, a co-director of the Media and Law Studies Association in Istanbul.
"But on the other hand, we have all the rights in the Constitution," he added. "If they follow the local laws and the European conventions, they don't need reform."
Even as Mr. Erdogan has publicly guaranteed an independent judiciary, his critics accuse him of working to subjugate the courts.
The most important example is the Council of Judges and Prosecutors, the country's most powerful judicial body, which appoints and removes judges, applies disciplinary measures and elects judges to the Supreme Court. The council is essentially in Mr. Erdogan's hands since a referendum in 2017 expanded the powers of the presidency and gave him effective control over it, legal professionals say.
Today, four of the 13 judges on the Council are selected by the president, and seven by Parliament, which is dominated by Mr. Erdogan's Justice and Development Party, or A.K.P. The justice minister serves as president of the Council.
Yet Mr. Erdogan made no mention of the Council in his speech. "So all those hoping for reforms will be disappointed," Mr. Ok said.
Turkey's judicial system was by no means perfect when Mr. Erdogan came to power — and law professors point out that the country has only in rare periods enjoyed anything like an independent judiciary.
Yet Mr. Erdogan was praised in his early years in power, from 2003, as his government pushed through judicial reforms, encouraged by the European Union.
He abolished the death penalty and brought in a three-tier system (first court, appeals court and Supreme Court) to bring Turkey's system closer in line with European standards.
Credit

Bulent Kilic/Agence France-Presse — Getty Images
But Mr. Erdogan also carried out a housecleaning of personnel to readdress what he and his Islamist supporters saw as years of disenfranchisement at the hands of largely secular state structures, which refused to work with him even after he became prime minister.
More recently, after the coup attempt, around 4,000 judges were purged, many of them his former Islamist allies, in a move that compounded years of government meddling. The judiciary has become precariously dysfunctional, legal professionals warn.
With the purges, almost all first-instance judges were promoted to the appeals courts, and newcomers were appointed in the first courts.
The result is that many judges, incapable or unsure of how to handle cases, push their cases up to the appeals courts, which are overwhelmed, said Mr. Feyzioglu, the head of the bar association.
The prison population has swelled to 272,000, five times the number of when the A.K.P. came to power 17 years ago, said Mehmet Ali Kulat, the manager of a political research company.
At least 15 million Turkish citizens are caught up in the criminal justice process as witnesses or defendants, he says, since there are 7.5 million criminal cases ongoing.
Cases take 16 times as long to be processed as they do in the United States, he added.
What's more, the inexperience of the judges, and the fact that many owe their jobs to Mr. Erdogan's party, has made them more susceptible to pressure.
"If you ask me whether this system provides judges with the necessary guarantees," Mr. Feyzioglu said, "I can easily say the judges do not feel so."
Those who are not indebted to Mr. Erdogan's party have seen their colleagues purged or jailed, including people who had nothing do with Fethullah Gulen, the Islamist preacher accused of instigating the coup. The fear of prosecution has paralyzed both the judiciary and academia.
"So everybody has the fear of being purged or being branded as Gulenist," said Cenk Yigiter, a former law professor at Ankara University who was purged from his job for signing a peace petition.
Purged officials are penalized repeatedly, shunned by employers for fear of association and have their passports confiscated. Mr. Yigiter has been charged in six criminal cases. "It is as if an entire group of people were expelled from being citizens," he said.
He found himself recently advising a student not to go into academia because of the constraints. "This culture of fear is going to prevail in the universities for another 20 years," he said.
Mr. Eminagaoglu, who has long been a thorn in the side of Mr. Erdogan, knows the wrath of the government better than most.
As a judge and prosecutor, he oversaw cases against Mr. Erdogan and his political party. He then founded an association of judges to work for judiciary independence.
Now a lawyer, he is busy most of the time defending himself against a half-dozen cases brought against him by the government. "Half these cases are my own," he said, gesturing to shelves of box files in his Ankara office.
He has been charged multiple times for insulting the president or the state for comments made on social media. Many others face even more serious charges of terrorism or trying to undermine the constitution.
"Talking of government oppression," he said, "my colleagues who used to work together with me now hesitate to look me in the eye."
By Carlotta Gall
Source: NYT