Erdogan Faces His Biggest Test of the Pandemic: The Economy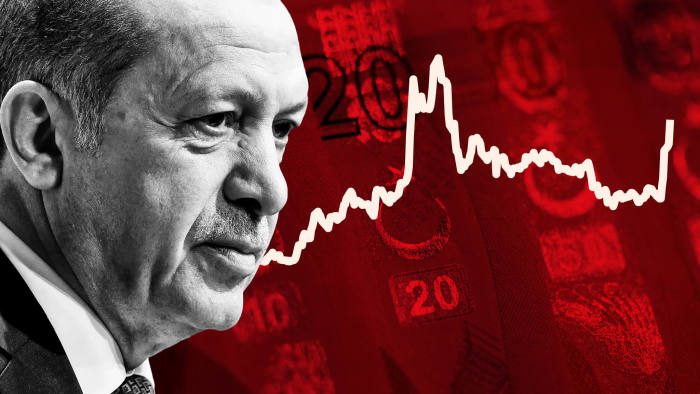 An economic crisis was looming even before the coronavirus gripped Turkey with unexpected ferocity. But the contagion has quickly and ruthlessly laid bare the ways President Recep Tayyip Erdogan has left the economy vulnerable, presenting him with the greatest challenge of his 18 years in power.
The outbreak has exacerbated already high unemployment and inflation, and unified his political opposition. It has raised fresh concerns about Mr. Erdogan's heavy investment in giant infrastructure projects that analysts have long warned were too costly to sustain.
"This is the biggest crisis that he is managing of his political career," said Ozgur Unluhisarcikli, Ankara director of the German Marshall Fund of the United States. "He knows there will be a price to pay for the economic downturn.''
Eventually, Turkey may emerge well placed to take advantage of changes in the global economy, like supply chains closer to home, that some analysts expect as a result of the pandemic. But for now, with the collapse of tourism, a mainstay of the economy, and desperately short of cash, Mr. Erdogan has few friends to turn to, having ruled out a loan from the International Monetary Fund.
Some are hoping that the coronavirus achieves what financial markets and some of the president's advisers have failed to do: persuade Mr. Erdogan to make structural reforms and reverse his authoritarian grip over fiscal policy.
In a sign of the pressures hanging over the country, the lira has sunk to a new low — breaking the barrier of 7 to the dollar. The Central Bank has spent $20 billion of its reserves since the pandemic erupted, according to economists.
Mr. Erdogan's response, perhaps unique among world leaders, has been to try to balance Turkey precariously between opening and closing throughout the outbreak. The president has imposed only a partial lockdown and insisted on keeping the wheels of industry turning as he tries to save the economy, and himself.
Restaurants, bars and small businesses have been shuttered, but production plants, textile factories and construction sites — among them development projects promoted by Mr. Erdogan — have kept working.
That hybrid approach, together with an efficient health care system, has won Mr. Erdogan the confidence of much of the population, with opinion polls in April showing he has 60 percent support. But it has also left Mr. Erdogan open to charges that he has prioritized the economy over lives.
The results, his critics say, have spread the virus in working-class districts and rendered workers vulnerable on construction sites, leading to at least one death.
Confirmed cases of Covid-19 in the country of 83 million have reached 127,000, and the official death toll is 3,461, although the real figure is thought to be higher since Turkey is only reporting deaths of people who tested positive for the disease.
While officials point to encouraging numbers that indicate a slowing in the overall rate of infections and declining deaths, there is no doubt that the president has kept a tight grip on the media and government messaging.
Mr. Erdogan has adopted an avuncular, reassuring tone in his speeches throughout, and made a show of leading by example by self-isolating and running his cabinet by videoconference. On Monday, he told the nation that the restrictions were working, and announced that some of them would be lifted.
"We have reached an important turning point," he said in a televised address. Turkey had achieved its main targets of curbing the spread of the disease, "preventing a break in production and maintaining public order."
But his critics, including the leaders of some of the country's largest labor unions, have had a different message.
Sign up to receive our daily 
Coronavirus Briefing
, an informed guide with the latest developments and expert advice.
"Our union has been demanding that construction sites be shut down and workers put on paid leave since the first day of the outbreak, in order to save their lives," Ozgur Karabulut, the President of the Progressive Union of Construction Workers, said in a telephone interview. "But they didn't allow the wheels of the economy to stop turning, and forced construction workers to keep building on sites where they have to be in proximity to each other."
"The government tells the media that life is slowly going back to normal, however we're seeing the opposite at our workplaces," he added. "From what our members tell us, the infection keeps spreading."
The Confederation of Progressive Trade Unions, DISK, found that its members were more than three times more likely to be infected by the coronavirus than the general population, according to a report released by the union last week.
Last month, a union leader collapsed from a heart attack at the Galataport construction site, one of the most expensive development projects on Istanbul's waterfront. The man, Hasan Oguz, tested positive for Covid-19 and later died in hospital, Mr. Karabulut said.
Four other workers had tested positive at the site, but construction was only suspended on April 14, two days after Mr. Oguz died.
"If work was stopped on April 3, as we had demanded, he would perhaps not have been infected and we wouldn't have lost him to the virus," Mr. Karabulut said.
"This problem is not limited to construction sites," he added. "In factories, shipyards, and textile mills where work has not been stopped, workers are getting infected one by one."
For those workers sent home or forced to close their businesses, surviving the financial fallout is another cause of anxiety.
The economic packages announced by Finance Minister Berat Albayrak, the president's son-in-law, fall short of what is needed, workers and business leaders say. Casual laborers, some of the most vulnerable members of the work force, are not covered, and cash handouts are paltry.
Even some workers in the many parts of the formal sector, like factory workers, have been sent home on annual leave, but wonder what will happen when their leave is up.
After five weeks with no income, Fatos, 36, a single mother and owner of a beauty salon in Istanbul, said she could not survive more than two or three months of being closed. (She asked to be identified by her first name to avoid any difficulties with the authorities.)
"My expenses keep piling up," she said in a telephone interview. "The rent for the beauty salon is 4,500 lira, then there's taxes, the salary I pay my hairdresser, my daughter's school fees, and on top of all that I'm paying a mortgage."
Her landlord had refused any discount on the rent, she said, and the government had only helped with partial payment of her employee's salary.
"For the first time in my life, I'm not able to fall asleep until 6 or 7 in the morning because I'm so worried about my work situation. It has started to cause me physical pain," she said.
Mr. Erdogan, whom analysts say is always looking to the next election — the next one is three years away — is acutely aware of the political fallout he may face. His popularity, and that of his party, has been faltering in local elections last year in the face of a united opposition.
Turkey is well placed to benefit from new trends in trade and business that are emerging post-coronavirus, in particular in the health industry, said Bahadir Kaleagasi, president of the Institut du Bosphore, a French association that encourages Turkish relations with France and Europe.
But right now, Mr. Erdogan needs cash.
With available reserves at only $35 billion, Mr. Erdogan is looking to the United States for help. He has ruled out seeking a loan from the I.M.F., but during a videoconference meeting with Group of 20 members at the end of March, raised the possibility of a foreign currency swap agreement.
Turkey might not meet the necessary conditions, including an independent central bank and low inflation, to secure a swap with the United States, but there are signs it is making overtures.
The Turkish government has postponed the activation of its newly purchased Russian S400 missile defense system, presidential national security adviser Ibrahim Kalin said recently. That could be a step toward easing the greatest dispute between Turkey and the United States.
Mr. Erdogan sent two planeloads of donated medical supplies to the United States last week, with a letter to President Trump declaring Turkey a "reliable and strong partner."
He also called for "close coordination and partnership" in measures to be taken for the recovery of the global economy.
By: Carlotta Gall
Source: NY Times