Elusive figure of Syrian war dies with secrets in Turkey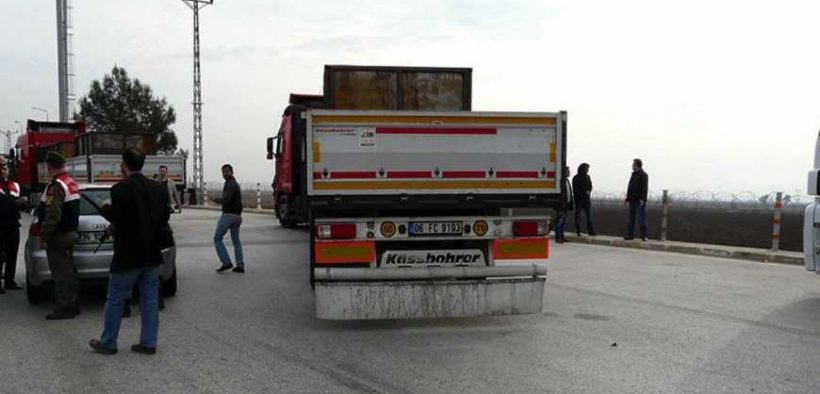 Heysem Topalca, a fugitive who allegedly played a key role in the Turkish intelligence operations in Syria before vanishing into thin air in 2015, has died at the age of 54, leaving several unanswered questions behind.
Topalca, notoriously known as "Hytham Qassap" or "Hytham the butcher," and two other passengers in his car were killed in a traffic accident in the central Anatolian province of Konya on Feb 10. Topalca's name was embroiled in various controversies from his alleged involvement in Ankara's weapons transfers to armed Syrian groups to accusations that he played a role in two separate terror attacks inside Turkey and that he helped radical jihadi groups to supply chemical agents. In 2015, a Turkish court sentenced him to 12 years in jail for terrorism-related charges. He has supposedly been "wanted" by the Turkish authorities since then.
Hailing from Syria's predominantly Turkmen region of Bayir Bucak in the Latakia countryside, Topalca had allegedly collaborated with Turkey's National Intelligence Organization (MIT) to arm Turkmens in the region against the Syrian government. He had also led a jihadi Turkmen faction there, where he was dubbed "ghost commander" for his ability to freely conduct all sorts of smuggling operations. According to a 2014 police report, Topalca had entered and exited Turkey 873 times from 2011 to 2014. How he had managed to travel with such ease during a time frame in which his name was implicated in several investigations over terror-related crimes remains an open question, fanning claims that he had been collaborating with the authorities.
Moreover, Topalca was arrested multiple times by security forces only to be freed every time — another indication that he was under some sort of protection. But he also held many secrets. That's why the car crash that claimed his life evokes the memorable road accident near the northwestern town of Susurluk in 1996, which exposed ties between the Turkish state and the underworld as a senior police chief, a parliamentarian and a wanted hitman turned out to be among the passengers in one of the vehicles.
Unlike Susurluk, Topalca's death was hardly reported in the Turkish press, which is under the strict control of the government. Topalca was buried in Yayladagi — a border town where his family resides near Turkey's southeastern province of Hatay — on Feb. 11, according to a routine obituary notice published on the Hatay mayor's office Facebook page. Yet the accident revealed that his connections in Konya, where he allegedly supplied the weapons sent to Syria, were still active at the time of his death.
Although Ankara's need for men like Topalca had diminished after the Turkish army entered into the Syrian scene in a 2016 military operation, Topalca's life provides some insight into the evolution of the armed conflict in Syria.
He was a cab driver and an ordinary smuggler along the Syrian border until the beginning of the armed conflict in 2011. By the eruption of the conflict, he had swiftly transformed his business according to the needs of changing circumstances and put his experience into the service of armed groups by supplying their various needs. He escorted militants who were traveling to the Latakia coast from the countryside. He even formed his own opposition group, called Brothers in the way of God, as part of the Turkmens' armed campaign against the Syrian government.
He was also targeted by some jihadi groups because of his pre-war ties with some local Syrian officials. In 2013, a radical jihadi group kidnapped Topalca and Turkish journalist Bunyamin Aygun who was interviewing him in western Syria. Topalca was released more than two weeks earlier than Aygun, owing to his well-established ties in the country. He was among the group of Turks who traveled to Syria to take Aygun back after the journalist's release was secured.
Topalca's name had come under further light after speculations over his alleged involvement in arms and explosives trafficking.
Most notably, Topalca's name was embroiled in a 2013 twin car bombing in Turkey's border town of Reyhanli. During the trial over the attack that claimed 53 lives, some defendants blamed Topalca, prompting questions about Ankara's straight-off accusations that Damascus was behind the attack. Nasir Eskiocak, the No. 1 suspect of the trial, claimed they had arranged the minivans used in the attack to smuggle narcotics from Syria to Turkey, unaware that they would be used in the attack. Eskiocak claimed that he and Yusuf Nazik — another key suspect of the trial — discussed the smuggling plans in the presence of Topalca and two MIT officials. Nazik also blamed Topalca for the attack. "Topalca set us up. We were collaborating with him to smuggle goods from Reyhanli. The minivans used in the attacks were for smuggling," Nazik told the press while in Syria before he was caught and handed over to Turkish officials.
Both defendants were convicted of the attack and sentenced to life in prison, while Topalca wasn't even summoned to testify before the court.
The only official public information about him remained limited to an information note sent to the court by the MIT at the court's request. In the note, they identified Topalca as a Syrian citizen who was born in Latakia in 1967 and said he was residing in Syria.
In response to attorney inquiries, Turkish authorities said there had been no ongoing investigation over Topalca. Yet at the time, Topalca was on trial after being caught with possession of some chemical substances that were reportedly used to produce sarin nerve gas.
This was the only trial Topalca had failed to avoid. The trial came after he was detained along with five others during a police raid in Adana in May 2013. The six men were in possession of some chemical substances that the Turkish media referred to as sarin — a claim denied by the government and local governor's office.
In the meantime, the government dismissed the prosecutors overseeing the investigation as part of Ankara's clampdown on the network of US-based cleric Fethullah Gulen, which it has designated as a terrorist organization. In October 2013 a Turkish court released Topalca. However, when an expert report sent to the court established the chemical substances found in the men's possession could indeed be used to make sarin nerve gas, the court issued an arrest warrant for Topalca. He was never apprehended. He was convicted of terrorism-related charges and sentenced to 12 years in jail in absentia. The opposition accused the government of a cover-up.
Another controversy that Topalca was implicated in was the Nov. 7, 2013, seizure of a truck in Adana which carried 933 rocket heads. The driver of the truck claimed that the cargo belonged to Topalca. He was detained, but he was released with the help of a secret hand, only to be implicated in a fresh controversy a few months later.
In January 2014, acting on a tip-off, Turkish prosecutors issued a warrant for three Syria-bound trucks allegedly carrying weapons to al-Qaeda-affiliated groups in Syria. Security forces stopped the trucks in Adana, but the men in a vehicle accompanying the trucks identified themselves as members of the MIT and stopped the search. President Recep Tayyip Erdogan argued that the trucks carried humanitarian supplies to Bayir Bucak Turkmens, but few were convinced. The prosecutors who issued the warrant were later arrested as part of the government's crackdown on Gulen, whom Ankara accuses of masterminding the 2016 coup attempt.
During the trial, one of the prosecutors, Aziz Takci, claimed the MIT was collaborating with Topalca for the arms and ammunition shipments to Syria. He also claimed that Topalca had links with Islamic State militants who launched a deadly attack on Turkish security forces on a road in the central Anatolian province of Nigde in 2014, in which two Turkish security officials were killed.
Wiretapping records of one of the attack's suspects have led to further questions about alleged ties between the assailants and Topalca. According to a 2015 indictment over the attack, suspect Ayhan Orli was heard speaking about Topalca over the phone, claiming at the time he was fighting in the northwestern Syrian town of Kesab — an ethnic Armenian town that came under the control of jihadist groups in March 2014.
According to a 2014 gendarmerie report, Topalca also smuggled machinery parts from Aleppo's industrial zone and historical artifacts from various Syrian regions to Turkey. The report also detailed Topalca's involvement in the Reyhanli bombings and supplying ammunition for al-Qaeda-affiliated groups.
Claims surrounding Topalca's smuggling activities and his alleged ties with the government were also brought to the attention of the parliament in 2013. Ali Ozgunduz, who was then the main opposition deputy, accused Topalca of plundering Alawite villages in Syria and questioned how Topalca managed to escape security forces every time he was caught.
"For what reason is your government backing Topalca? Are claims that this person works for the National Intelligence Agency true?" Ozgunduz asked the government. These and many other questions will remain unanswered, as Topalca has taken all of his secrets with him to his grave.
By: Fehim Tastekin
Source: Al-Monitor