Arbitrary Arrests, Kidnappings, Torture in Erdogan's Turkey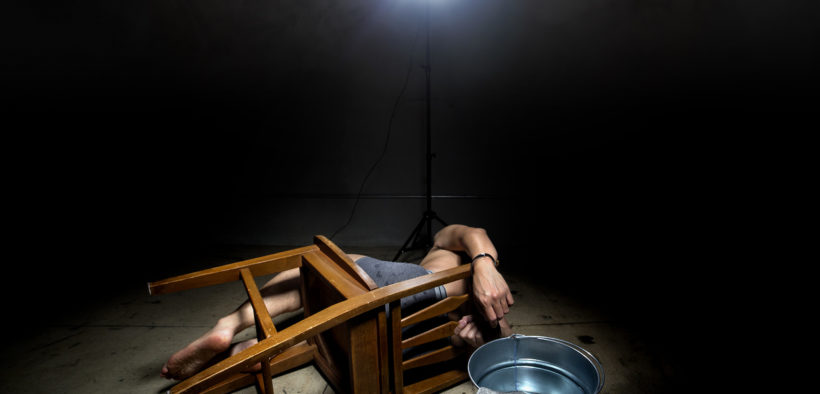 Torture and ill-treatment, as well as a lack of medical care for sick prisoners, are widespread in Turkish jails. Meanwhile, those who advocate for the rights of the victims are arrested. Given the horrifying scale of destruction of human rights of citizens of Turkey, is it not the time for the US government finally to make human rights a priority in its dealings there? (Image source: iStock)
Turkey's government continues the systematic targeting and persecution of those perceived as "enemies" of the government.
Ayşe Özdoğan, suffering from stage-4 maxillary sinus cancer and one of the tens of thousands of Turkey's victims, was convicted of being a supporter of a movement led by Fethullah Gülen, a Muslim cleric self-exiled to Pennsylvania. The government of President Recep Tayyip Erdoğan calls Gülen's movement a "terrorist organization" and accuses it of carrying out an attempted coup d'état in 2016.
According to the court ruling, Özdoğan's so-called crime is to have worked at a dormitory affiliated with the Gülen movement. She was sentenced to nine years and four months in prison for being "a member of a terrorist organization". Her husband, a teacher, was dismissed from his job and imprisoned for the same alleged crime. Their 8-year-old son suffers from a congenital heart defect.
Özdoğan was arrested and imprisoned two weeks after being diagnosed with cancer in April 2019. As she could not pursue a required second cancer treatment surgery, the disease has spread to her brain. Although she was eventually released because of her son's heart condition, she is now massively disabled.
Turkey's Court of Cassation has approved her prison sentence, which means she will be imprisoned again soon. Ever since her release, she has been struggling on Twitter to make her voice heard. She is seeking support from the public and justice from state authorities. On June 14, she wrote on Twitter:
"Because my surgery was delayed while I was in prison, my left upper tooth, left palate, cheekbone and lymph nodes were removed. The bottom of my left chin is now empty. 20 cms of bone was taken from my leg and placed on my face. These surgeries have affected my whole body. I now have hearing, vision and speech loss.

"I'm having trouble walking. Since my tear ducts have been removed, my tears never stop; they flow constantly. Since platinum has been placed under my eye, inflammation occurs in that area, which can also be seen from the outside. According to the latest MRI I had, the tumor has spread to the back of my eye."
Sending Özdoğan to prison while her body is crumbling due to cancer means giving her a slow and painful death sentence. More so because torture and ill-treatment, as well as a lack of medical care for sick prisoners, are widespread in Turkish jails.
A human rights advocate group called "The Hunger Strikes Monitoring and Follow-up Coordination" — which includes organizations such as Diyarbakır Medical Chamber, the Human Rights Foundation of Turkey, Human Rights Association, Lawyers Association for Freedom, Association for Solidarity with and Aid for the Families of Prisoners and the Union of Health and Social Services Workers — visited prisons in Diyarbakır, Elazığ, Urfa, Bayburt, Erzincan, Malatya and Maraş and reported on the violations of rights in April, May and June 2021.
According to the report, political prisoners are often subject to torture, assaults, insults, threats, and other forms of ill-treatment in those prisons. Some of the abuses include:
A prisoner in Diyarbakır T Type Prison stated that he was repeatedly tortured in torture chambers, also known as aquarium rooms, sponge rooms or soft rooms. Those rooms are arranged in such a way that there are no security cameras there and no torture detection can be made. He stated that his left thumb was broken after the torture he was subjected to while his hands were cuffed behind his back on May 3, 2021. He stated that he was subjected to a nude search while he was being transferred from Espiye Prison. The report adds that there are many cases of torture in this prison, but the prisoners are generally reluctant to announce it, and they are made to feel desperate by being told that even if they file a criminal complaint to the prison administration and staff, they will not get any results.
In the prison of Elazığ, when the battered prisoners said that they wanted to go to the prison infirmary, they were made to wait for at least three days. When they finally had access to the prison doctor, they were not given a report of the assault. After the prisoners filed a criminal complaint about being beaten, a disciplinary investigation was launched against the prisoners for insulting the officer and insulting the president rather than opening an investigation against the perpetrators.
In Malatya, the prisoners said they were forcibly frisked while naked. When they did not accept being frisked naked, they were battered and received disciplinary punishments. They stated that the items they brought from the prisons they were transferred from were not given to them by prison authorities. There were suicide cases and deaths in some wards. Some prisoners said their release was prevented due to the arbitrary punishments they received, such as being put in solitary cells for not accepting unlawful practices (including forced standing.)
Sick prisoners are not transferred to hospitals in most cases. They are not treated properly and their applications to the prison administration to seek help are unanswered.
The prisoners who are transferred to hospital are brought before a doctor in double handcuffs, and the doctors do not show any negative reaction to this ill-treatment. If prisoners object to the situation, they are removed from the medical room without being examined and a report is drawn up which states that the prisoners, of their own few will, do not want to be examined.
There are many prisoners with chronic diseases who do not receive proper medical treatment. Bayram Demirhan, for instance, had a loss of function in both kidneys, vision loss of 95 % in one eye and 20% in the other. Yet, he has not been medically treated. According to the report, in another case, a Kurdish prisoner from northeastern Syria named Izeddin Reşo was tortured with electricity, which exploded his hands and feet. Afterwards, he suffered severe psychological problems.
Meanwhile, those who advocate for the rights of the victims are arrested. The opposition Peoples' Democratic Party (HDP) lawmaker, Ömer Faruk Gergerlioğlu, for instance, was sentenced to two years and six months in prison for "making propaganda for a terrorist organization" in his social media posts. His parliamentary immunity was stripped on March 17. Gergerlioğlu started a "Justice Watch" in the Parliament that day. On March 21, he was forcibly removed from the Parliament by police and taken into custody. Gergerlioğlu was later released and continued his "Justice Watch" within his own house. On April 2, his house was raided by police, who imprisoned him.
Gergerlioğlu is an outspoken voice of victims of torture, arbitrary arrests, unlawful dismissals, and other rights abuses in Turkey. On July 5, police intervened with tear gas in the "Justice Watch" that the HDP had initiated in front of Ankara Sincan Prison demanding the release of Gergerlioğlu. Five people, including Gergerlioğlu's son, Salih Gergerlioğlu, were detained by the police. The detainees were battered by police during arrest. Salih was released the same day; his father was released on July 7.
Also punished for speaking out against rights abuses was Sinan Aygül, Editor-in-Chief of the newspaper "Bitlis News". A lawsuit was filed against him for "violating the confidentiality of the investigation" after he covered a child abuse case that took place in the city of Bitlis in 2019.
The court board, citing the lawsuits filed earlier based on the news Aygül had made, sentenced him to 10 months in prison. They claimed that "There was no positive opinion in our court that he would not commit a crime again, considering the criminal personality traits of the accused and his insistence on committing a crime…" The Court of Appeal upheld the ruling by reducing the 10-month prison sentence to five months.
Aygül surrendered to the Tatvan prison to serve his prison sentence on June 30. The man who had committed the crime, however, was sentenced to five years in prison and then released.
Aygül made a statement to the press in front of the prison:
"The prison sentence I have received is not very important for me, but the punishment of a news article that reveals sexual abuse against children takes us to a completely different point. Let's not allow the restriction of freedom of the press, and the legitimization of harassment and rape in this way."
Such unlawful imprisonments and arbitrary arrests have become systematic in Turkey to the point that Turkey now ranks 107th out of 128 countries in the World Justice Project's Rule of Law Index 2020.
Meanwhile, those who are outside of Turkey are not safe from the government's arbitrary acts. On July 5, President Erdoğan announced that the Turkish intelligence agency had "brought to justice" educator Orhan İnandı, who disappeared in Kyrgyzstan this past May. İnandı, a dual citizen of both countries, who had worked as a school principal in Kyrgyzstan for 26 years, is not the first target of an abduction by the Turkish government. Many other cases of the kidnappings of dissidents have taken place in African, Balkan and southeast Asian countries.
In February, the US State Department announced that President Joe Biden is committed to a foreign policy "that is centered on the defense of democracy and the protection of human rights." Given the horrifying scale of destruction of human rights of citizens of Turkey, is it not the time for the US government finally to make human rights a priority in its dealings there?
By: Uzay Bulut, a Turkish journalist, is a Distinguished Senior Fellow at the Gatestone Institute.
Source: Gatestone Institute.