Global Peace Index 2019: Turkey Ranks 152nd Among 163 Countries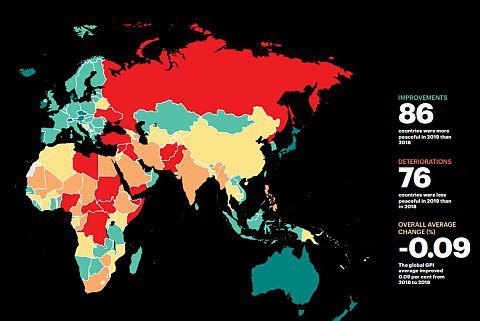 The Australia-based Institute for Economics and Peace (IEP) released its Global Peace Index 2019 yesterday (June 12).
The thirteenth edition of the Global Peace Index has ranked 163 states and territories according to their level of peacefulness, covering 99.7 percent of the world's population in that regard.
In the executive summary of the report, the IEP has indicated that "the average level of global peacefulness improved very slightly in 2019" and underlined that "this is the first time the index has improved in five years."
"The average country score improved by 0.09 percent, with 86 countries improving, and 76 recording deteriorations," the Institute has stated.
Emphasizing that climate change can lead to new conflicts around the world, the report has shown that while "Iceland remains the most peaceful country in the world, a position it has held since 2008, […] Afghanistan is now the least peaceful country in the world, replacing Syria."
Turkey ranks worse in peace than Sudan
Turkey, which ranked 149th in the Global Peace Index 2018, has deteriorated by three ranks and has ranked 152nd in this year's index.
Only the following countries have ranked worse than Turkey: Pakistan, Russia, Democratic Republic of Congo, Libya, Central African Republic, Somalia, Iraq, Yemen, South Sudan, Syria and Afghanistan
Covering Turkey as part of Europe, the IEP has made the following comments on Turkey and its peace ranking:
"22 of 36 countries in Europe improved. Europe continues to dominate the top of the index, accounting for 17 of the 25 most peaceful countries. Only Turkey, at 152, is ranked amongst the 50 least peaceful countries.
'Turkey has the worst terrorism score in Europe'
"Most aspects of the Safety and Security domain improved, especially political terror and the impact of terrorism. Most countries in Europe, apart from Turkey, register low levels political terror, which includes political imprisonment, disappearances and torture.
"Twenty-four countries had a reduction in terrorism impact in 2019, chief among them Cyprus, Bosnia and Herzegovina, Greece, Spain, Denmark and Turkey. Turkey has the worst terrorism score in the region." (PT/SD)
* Click here to read the full report
Source: Bianet