Kurdish journalists fear Turkish operations will continue until they are all behind bars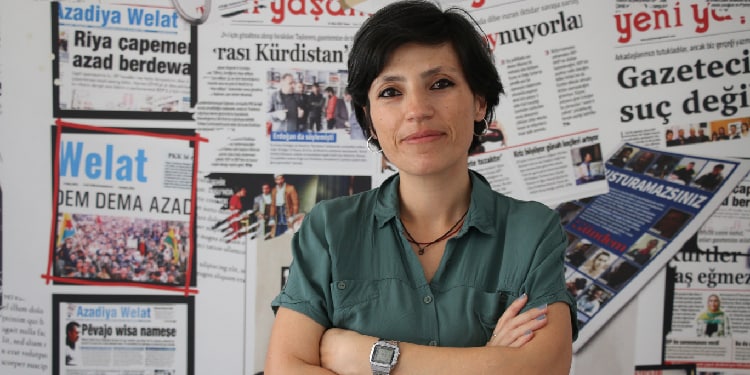 KURDISH journalists appealed for urgent international solidarity today, fearing that the latest wave of arrests in Turkey will not stop until they are all behind bars.
The appeal followed raids on the homes of editors and journalists across the country in which at least 21 were detained by Turkish security forces.
Dicle Firat Journalists Association (DFG) co-chairman Serdar Altun was held in Wednesday's crackdown, along with Jin News director Safiye Alagas and editor Gulsen Kocuk.
Mesopotamia Agency (MA) editor Aziz Oruc was taken into custody, as were journalists Omer Celik, Suat Doguhan, Ramazan Geciken, Esmer Tunc, Nese Toprak, Zeynel Abidin Bulut, Mazlum Dogan Guler, Mehmet Sahin, Elif Ungur, Ibrahim Koyuncu, Remziye Temel and Mehmet Yalcin.
Many of those held also appear on television shows for Sterk TV and Medya Haber. Journalists at the agency, which suffers severe repression by the Turkish state, fear that they will be next.
"All the people they took were hosting TV shows and were the people in charge of our institutions," an MA journalist told the Morning Star on condition of anonymity.
"We expect a new [round of arrests] for the actual press committee and then they will come for us, the reporters," they said.
"I don't understand why they are doing this. This operation will continue until they take everyone."
The Committee to Protect Journalists, a New York-based organisation that supports regime change in countries hostile to US interests, says that just 19 journalists were in jail in Turkey at the end of last year.
But according to the DFG, at least 65 journalists were behind bars at that time, while two were killed and another 55 injured, and the true figure is likely to be higher.
The reason for the discrepancy is that official institutions often refuse to include Kurdish journalists in the totals, as many of those imprisoned are alleged to be terrorists rather than media workers.
This week's arrests are seen as a further bid to silence dissent ahead of next year's elections and as Turkey prepares for an imminent invasion of northern Syria.
Media laws tabled by President Recep Tayyip Erdogan's ruling Justice and Development Party aim to further restrict press freedom, which already barely exists in any meaningful sense.
Under the new legislation, those deemed to be spreading "disinformation" that misleads the public  — likely to mean criticism of the government — face a prison sentence of up to three years.
Britain's National Union of Journalists condemned the targeting of journalists and urged Turkey to free all those held in the latest raids.
DFG co-chairwoman Dicle Muftuoglu, who was released from detention earlier this week, told the Morning Star that the state was criminalising journalistic activities.
She accused the government of "resorting to methods of war" to detract from a deepening economic crisis and silence the truth.
"It also applies pressure and violence to those who oppose it. In the last two weeks, it has carried out extensive operations against opposition youth, democratic politicians and women's rights defenders," Ms Muftuoglu said.
"Unfortunately, the government is targeting all opposition groups in order to get out of this jam."
By: Stewe Sweeney
Source: Morning Star