Turkey rejects links between NATO expansion, F-16 deal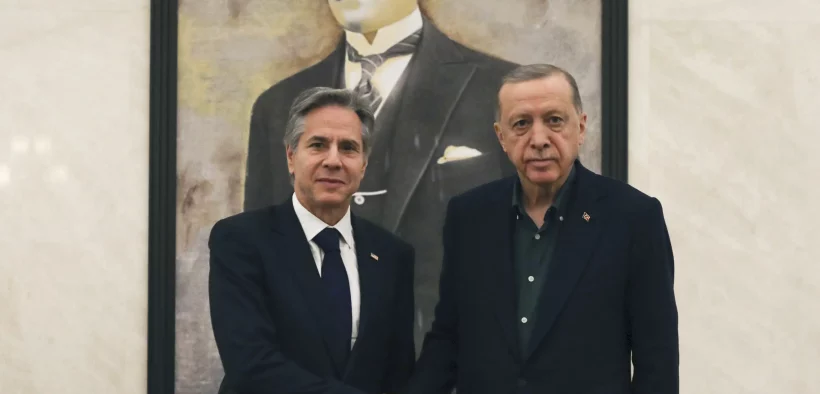 (AP) — U.S. Secretary of State Antony Blinken on Monday called for Sweden and Finland to be accepted into NATO "as quickly as possible," although his Turkish counterpart dismissed the possibility of any link between their accession and Turkey's request for F-16 fighter jets.
Turkey has delayed the Nordic countries admission to the trans-Atlantic defense alliance, citing concerns over terrorism. Meanwhile, members of the U.S. Congress have tied approval of the F-16 deal to Ankara retracting its opposition to the NATO enlargement.
"We're confident that NATO will formally welcome them in soon," Blinken told a joint news conference with Turkish Foreign Minister Mevlut Cavusoglu in Ankara. "And when that happens, it will enhance the security of every NATO member, including the United States, including Turkey."
Cavusoglu repeated Turkey's position that it would be willing to approve Finland joining NATO before Sweden. Turkey has complained about what it sees as Stockholm's tolerance of support for the Kurdistan Workers' Party, or PKK, which has waged a 39-year insurgency against Ankara.
"Unfortunately PKK supporters are still present in Sweden," he said. "They are recruiting people and they are financing terror acts and they are carrying out terror propaganda in Sweden … because they don't want Sweden to become a NATO member."
While acknowledging that Sweden had made constitutional changes in a bid to satisfy Turkey's demands, he said that more needed to be done to "convince our parliament and people."
Ankara has also been angered by Sweden allowing protests against Turkish President Recep Tayyip Erdogan and not preventing an anti-Islam activist from burning the Quran, the Muslim holy book, in a separate, solitary protest.
Swedish Prime Minister Ulf Kristersson said Monday he remained "convinced that (Sweden and Finland) will join together." He added: "Ultimately, it is a Turkish decision to decide on ratification, that has not changed."
In Ankara, Cavusoglu made clear his country objects to the sale of F-16 jets being tied to ratifying the NATO membership of Sweden and Finland which must be agreed by all 30 members of the alliance. Only the parliaments of Turkey and Hungary have yet to give consent.
"It would not be right or fair to make two independent issues — the two countries' NATO membership and the purchase of F-16s — conditional on each other," Cavusoglu said.
"It would not be possible for us to purchase the F-16s under these conditions."
Ankara has been seeking to upgrade its F-16 fleet after it was kicked off the project to develop the next-generation F-35 fighter following its acquisition of Russian air defense missiles.
Underlining the U.S. administration's support for the F-16 deal, Blinken said it was "very important for ongoing NATO interoperability and in the national interest of the United States."
Blinken also commented on reports that China is considering military support for Russia in its war in Ukraine.
"We are concerned that China is considering supporting Russia's war effort in Ukraine with lethal assistance, something that we are watching very, very closely," he said.
Reiterating that there would be "real consequences… were China to provide lethal assistance to Russia" or help Moscow evade sanctions in a "systematic way," he said there was a "real concern that China is considering doing just that."
While not explaining these consequences, Blinken added that other countries, not just the U.S., would take similar action.
Blinken was in Turkey for the first time since he was appointed two years ago. The trip comes after the country and neighboring Syria were hit by a 7.8-magnitude earthquake on Feb. 6 that has left nearly 45,000 dead.
He met with U.S. and Turkish military personnel and aid workers at Incirlik Air Base near Adana on Sunday. They have been working to provide vital aid and assistance to the disaster zone. Blinken promised a further $100 million in aid to help Turkey and Syria on top of the $85 million that U.S. President Joe Biden announced for Turkey and Syria days after the earthquake.
The U.S. secretary of state said that Washington had acted "within hours" of the disaster and had so far sent hundreds of personnel and relief supplies.
But he said that ordinary Americans had also responded to "heartbreaking" images from the quake zone.
"We have nearly $80 million in donations from the private sector in the United States, (from) individuals. When I visited the Turkish Embassy in Washington, I almost couldn't get in the front door because boxes were piled high throughout the driveway to the embassy," Blinken said.
"Turkey faces a long road ahead to support those rendered homeless and to rebuild … and we're committed to providing support."
Cavusoglu welcomed U.S. support in the aftermath of the quake.
"I would like to thank them for not leaving us alone during these challenging times," he said.
On Sunday, Blinken took a helicopter tour with Cavusoglu of Hatay, one of the provinces worst hit by the earthquake.
"It's hard to put into words," Blinken said Monday. "Countless buildings, communities, streets, damaged or fully destroyed."
Incirlik, home to the U.S. Air Force's 39th Air Base Wing, has been a crucial logistics center for aid distribution. Supplies from around the world have been flown into the base and sent by truck and helicopter to those in need, including in difficult to reach villages.
Describing his meeting with U.S. aid officials and military at the base, as well as search and rescue teams "from Los Angeles to Fairfax County in Virginia," Blinken added: "All of them have seen the staggering toll of this catastrophe. All of them are committed to being there for our friends in this moment."
Blinken met with President Erdogan later Monday. As well as the effects of the earthquake, they were expected to discuss the NATO bids of Sweden and Finland, and Russia's war in Ukraine.
___
Andrew Wilks reported from Istanbul. Associated Press writer Jan M. Olsen contributed from Copenhagen, Denmark.