Turkey's ruling AKP moves to annul votes of sacked civil servants in İstanbul polls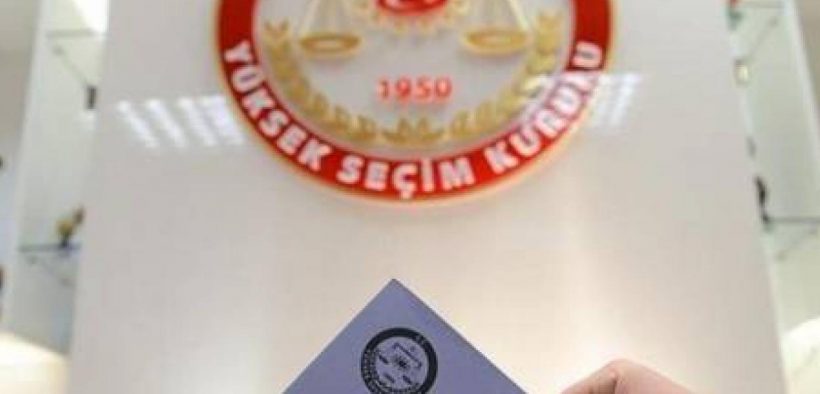 Turkey's ruling Justice and Development Party (AKP) on Saturday submitted a petition to the country's election board containing civil servant voters in İstanbul who had been expelled as a result of decrees issued during Turkey's state of emergency rule following the July 2016 coup attempt, left-wing Duvar newspaper reported.  
The move arrives following the AKP's existing appeal to the Supreme Election Council (YSK) asking the annulment of Istanbul polls, citing organised irregularities in electoral records and procedures.
The list of non-eligible voters was submitted as an attachment to an extraordinary appeal submitted on April 16, Duvar said.
The provincial election council on Wednesday officially declared opposition Republican People's Party (CHP) candidate Ekrem İmamoğlu as the new mayor of Istanbul after he defeated Binali Yıldırım, the joint candidate of the AKP and the MHP, by a very low margin.
The list of sacked civil servants who voted in the Istanbul polls submitted to the YSK contains 14,712 voters, Duvar quoted AKP's deputy head Ali İhsan Yavuz saying.
Devlet Bahçeli, the leader of the far-high Nationalist Movement Party (MHP) on Saturday, said a rerun of elections in Istanbul is necessary to relieve worries of the people, said Sabah newspaper reported .
According to analysts, losing Istanbul, which has been controlled by the AKP and its predecessors for 25 years, is a huge blow to the ruling party and its leader President Recep Tayyip Erdoğan.
"The Supreme Election Council will make the right, the most rational decision. According to us, a rerun of election in Istanbul will ease people's conscious," Bahçeli said.
Bahçeli accused İmamoğlu, who received his election certificate after 17 days of recounting of votes and subsequent appeals of the AKP and the MHP, of deepening polarisation in the country during that period.
"The process did not end after receiving the election certificate," Bahçeli said.
İmamoğlu said as mayor he would embrace all religious and ethnic groups living in Istanbul, while speaking to his supporters on Wednesday in front of Istanbul Metropolitan Municipality.
Istanbul's new mayor said on Thursday that he appreciated the political approach of Selahattin Demirtaş, the former co-chair of the predominantly Kurdish People's Democratic Party (HDP), who has been in jail since July 2018 on terrorism-related charges
"During the time Selahattin Demirtaş was active in politics, I liked his political approach. He really used a peaceful, conciliatory rhetoric that emphasised universal values. On my behalf, I expressed that this could be an opportunity for Turkey and could demolish many walls. I still believe so," İmamoğlu told Rudaw.
"Ekrem İmamoğlu is praising terrorist Demirtaş, sending regards to Armenians, Greeks," Bahçeli said.
Turkey's far-right leader also targeted veteran journalist Fehmi Koru for his comments that some votes shifted from the AKP to MHP in March 31 elections.
Bahçeli said Koru was linked to the Gülen movement, a religious group Turkey accuses of a failed coup attempt on July 15, 2016
"This person who has for a long time been a chronic enemy of the MHP, seems to have taken his place in the queue to take the revenge of July 15," Bahçeli said.
"It is strange that this person can still walk comfortably," the ultra-nationalist politician said, referring to Koru, who is known as of the most influential journalists in Turkey coming from an Islamist background.